Foreign Correspondence
---
Letters Home
By Steve & Barb Arnest
We left snowy Grosse Ile on Jan 20, and after short stops in San Francisco, Tokyo and Singapore, we arrived in Port Moresby, Papua New Guinea (PNG) four days later. Papua New Guinea time is 14 hours ahead of Michigan.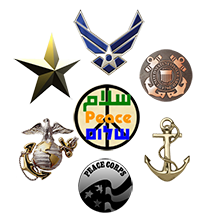 After nine days training near Port Moresby, we flew to Goroka in the Eastern Highlands Province, where we are now. You can find us on a reasonably large map of Papua New Guinea by locating the approximate center of mainland PNG. Look for Goroka, a town of approximately 12,000 population.
We completed the last eight weeks of our training at Kefamo, a Catholic mission just about two miles outside of Goroka. During training, we took classes in language (Tok Pisin), Melanesian culture, safety, health, security and technical studies. Included in the technical studies was how to plant a garden and build a pit latrine.
As things turned out for us, thank goodness, we didn't have to use the pit latrine skill. Of course, we shouldn't speak too loudly, 19 more months remain on our tour of duty.
The most interesting part of our training was the five-week house-stay period in the middle of our training where we "lived" with a PNG family – mama, papa, and five pikinini (Tok Pisin for "children"). We left Kefamo after class in the afternoon and went into Goroka by public motor vehicle. We stopped at the open market and got whatever vegetables might be needed for cooking the evening meal and rode to the home stat with papa on his public motor vehicle, which took 30-40 minutes.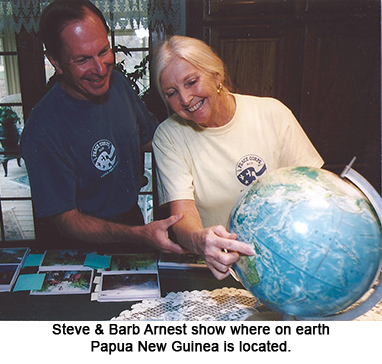 After we had our evening meal, talked about the day's events and slept, we rode on papa's vehicle to Kefamo in time for breakfast and begin class again.
Papa's vehicle is an open-bed truck with wood seats all around the perimeter of the bed. Overhead is a frame with a canvas top that is rolled down when it rains – and that was daily during our home-stay period because the PNG wet season begins in October and continues until March.
Our path back and forth to home stay was on the worst road imaginable (including Detroit-area potholes). This was a dirt road with very little gravel and ruts in some areas that were 2-to-2 1/2 –feet deep. This is one of the reasons as members of the Peace Corps it helps to be young!
Since we were the second and third oldest, this part of the training took a toll on our bodies, especially our backs.
Much could be written about our home-stay experience, but suffice to say, we ate with them (plenty of kaukau, which is sweet potato); slept in their thatch-walled house (we had a separate bedroom); we told stories with them and most important, for a brief moment, we walked in their shoes, sandals, or bare feet.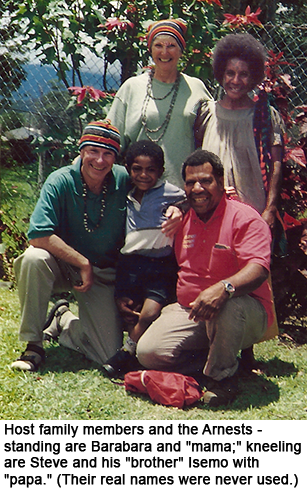 We felt the home stay was the most difficult and rewarding part of our training, and it really prepared us well, both mentally and emotionally, for life in PNG.
After completing our training, we were sworn in as Peace Corps volunteers on March 26 in a ceremony held in Goroka.
Also recognized that day were the home-stay families that housed the then-Peace Corps trainees, a very heart-warming sight indeed!
There were tears in many of the volunteer's eyes when each family was announced and walked up to receive a certificate of recognition.
At the end of March, the 42 Peace Corp volunteers, 16 Rural Community Development workers – of which we were two – and 26 teachers who trained at another site in Goroka, were assigned to their respective work sites.
During the training period, seven trainees left the program for various reasons. To be sure, there were times when every one of us felt like throwing in the towel, but we quickly snapped out of it when we reminded ourselves as to why we are here!
Our original work site was to be in a village called Kokopi (you won't find it on a map) in the same Eastern Highlands Province as Goroka. However, due to tribal problems near Kokopi, we were re-assigned to the Goroka area, where we had trained. We are currently working at the Institute of Medical Research.
Our current work at IMR deals with HIV/AIDS awareness education programs. Its intent is to teach peer educators (2-24-year-olds) how to teach this subject o the people in the village or settlement. Keep in mind that within Goroka some people live in "settlements," which represent some of the most elementary living conditions in the town area. Within walking distance of Goroka are villages where people live in round or square houses. Most houses have no electricity and no running water. Water comes from rain to catchment tanks or nearby streams. The people use outside pit latrines and hand-wash clothes.
We live on the grounds of the institute, within 25 yards of our work and another 25 yards from an open market and public motor vehicle transportation. We are fortunate to have a small ranch-type house attached to three others (similar to army barracks). Our house has two bedrooms, a kitchen, living room, electricity, running water, an inside toilet/shower and an outside semi automatic washer.
We probably have the best living and working condition of the 16 BCDs, although we would have liked to have more of a work experience in the "bush." However, our current work does take us to the settlements and villages about one or two time each week.
Finally, just a short comment on the weather. Our town is 5,000 feet above sea level and temperature range from the 70s during the day to the 50s at night with very low humidity. There is a constant breeze of three to five miles an hour and for 80percent of the time it is sunny. This is the way it is all year!
Having said that, during the wet season it rains almost every day for two to three hours in the afternoon or evening. But even then, it really doesn't stop any activities. During the dry season (April through September), the only difference is that it may rain only twice a week. You Grosse Ile golfers would just love weather like this!
The weather conditions along the costal and outer islands of PNG are far different from the Eastern Highlands. There it is much warmer with higher humidity and many, many more mosquitoes. We are fortunate indeed! Most of the teachers are stationed in schools along these costal areas and the outer islands.
The following are responses to question we get asked the most:
No, we haven't seen any snakes!
No, there are fewer birds here than we thought.
No, the people of PNG wear casual clothes similar to the USA.
No, we haven't seen the rain forest yet!
Yes, there are more roads here than we thought.
Yes, we do miss all of you, but…?
Well, we'll close for now and will write more about the PNG people, our work, outside activities and observations in general in future dispatches.
Pren bilong you long Grosse Ile (your friends from Grosse Ile).
(This article was originally published in the Ile Camera, 15 Oct 1999.)
President John F. Kennedy's inaugural address.
For more information, visit the Peace Corps website.
Considering volunteering? Go here.
Greetings from PNG!
By Barb & Steve Arnest
Greetings (again)!
As you may recall from our first letter, we are working with HIV/AIDS awareness education here at the Institute of Medical Research Goroka in the Eastern Highlands of Province of Papua New Guinea.
In November, we conducted a two-week writing/computer workshop for 15 HIV/AIDS Peer Educators. It took us four months to organize it – everything moves a little slower here. We found out we had the funding only four days prior to the start of the workshop. We were willing to fund it ourselves, but with a few budget cuts, IMR allocated the money.
One budget cut was the noon meal. We estimated about K$6 (about $2 in American money) per person and it was reduced to K$3. This meant that instead of us purchasing a take-out lunch at a local restaurant (there area few in Goroka) for them, "Mama" Barbara and another meri (woman) shopped a nd cooked every day for 22 people for two weeks!
Actually, after a few days the younger meri took over the cooking PNG-style and Barb helped. With the beautiful PNG weather, they took their plates of food and sat on the deck or cross-legged on the grass to eat.
On Thanksgiving Day, as part of the workshop, we roasted two huge kakaruk (chickens). Barb made bread dressing with what she had for spices. We had kaukau (sweet potato), mashed white potatoes (using a fork as a masher), vegetables and baked pumpkin pie from fresh-cooked pumpkin and served 30 people.
Just prior to the meal, Steve gave a short lesson about the first American Thanksgiving. Our new country director came in to observe the workshop and her husband and other Peace Corps staffers joined us.
Steve taught the basic letter-writing skills segment of the workshop from 10:30 a.m. to noon in the IMR tearoom. We continually see these kids struggle to write letters to get jobs in a country where the unemployment rate is well over 50 percent, but that's another subject for another time.
From 1 to 3 p.m., the students went to the Goroka Secondary School for computer instruction taught by two young PNG man (no plurals in the Tok Pisin language). One student had only a second-grade education, but it was amazing to see him progress.
The instruction is design to give students a basic understanding of the computer. But more importantly, it helped build their sense of self-worth. At the of the workshop, they all received certificates and a few gave presents to us. We were both very touched.
One young man gave Steve arrows he had hade – a skill he learned from his grandfather. Barb was given some bilums (string bags) and we were also given a carved mask. We will treasure these signs of deep appreciation always!
We will definitely use the bilums when we return to Grosse Ile, so when you see us with them, don't say "Mino save (I don't understand)." We have given you fair warning.
On Dec. 1, World AIDS Day was celebrated here in Goroka as it is all over the world. The Peer Educators, the associated Drama Group and the IMR Medical Anthropology Unit office staff went to different schools and market areas to talk about HIV/AIDS.
Two days later, it was International Volunteers Day in PNG, and Steve supervised 12 Peer Educators as they erected several HIV/AIDS exhibits at the Goroka National Part in the center of town. He was pleased at the number of people (about 400) with whom they were able to discuss the disease.
Enough about work for a moment; it's time for some news about our fist vacation since we joined the Peace Corps.
We started planning in early November for a trip to the Solomon Islands. Because of our work activities, we decided to leave on Dec. 12 and return Dec. 22. The Peace Corps banned travel between Dec. 27 and Jan. 15 to guard against possible trouble with the Y2K glitch.
Just like back home, everyone in PNG was traveling back to their villages for the holidays so the airport was very busy.
We arrived at the Port Moresby International Airport (fairly small) at about 6:30 a.m. on Dec. 12 and quickly learned we had been wait-listed ("no got tupela sia")! After waiting almost three hours, we learned we would not be able to fly for another three days.
We were scheduled to leave at 11 a.m. Dec. 15 and arrived to check on. There, we were told the plane was delayed two hours. We were truly wondering whether we were meant to go.
When we finally got started, we had seven wonderful days in the Solomon Islands with a bush walk in a rain forest, or jungle, as Barb prefers to call it. We also enjoyed two World War II tours and a trip to Kennedy Island (where former President John F. Kennedy swam to shore after PT-109 was sunk) for an afternoon of snorkeling and lunch. The water, fish and coral were absolutely spectacular.
It is still a third-world area, however. So unless you are a diver or geologist or interested in World War II, there are no "tourist attractions" most Americans might look for in a vacation. We really enjoyed it and would go back if the opportunity presented itself.
We returned to Port Moresby on Dec. 22 and left two days later for Goroka. We were very happy to come back to Goroka's weather. You can have that hot and humid weather on the coast; we'll take our eternal spring anytime!
We hurried and picked up a few groceries and fresh vegetables at our open-air market just a few yards from our house in preparation for Christmas Day. We will really miss fresh vegetables throughout the year when we get home.
Christmas afternoon was spent reading our mail from the past three weeks and opening the presents received from Barbara's best friend, Elaine Chizik of Riverview, MI. We also received a package from two Peace Corps volunteers who assisted us our training.
It's hard to capture the Christmas spirit with 75-to-80-degree weather and a beautiful sunny day, but we did have a little two-foot tree on our table that one of our friends in the Peace Corps brought at a yard sale. She knew Barb put up four trees at home and said, "You have got to have a tree in PNG."
The decorations were a sight to behold! We will always remember Jesse Kaski, a volunteer from Nebraska, for her thoughtfulness.
Again, since PNG weather doesn't lend itself to Christmas days we were used to in Michigan, we were not too homesick. However, on New Year's Day, as we watched New York City celebrate and knew Detroit was celebrating, too, we both shed a tear and really missed all our family and friends.
Perhaps like many of you, we saw the first Millennium celebration on Millennium Island – an uninhabited island in the South Pacific where several people had gone to be the first to welcome the New Year. That was at 9 p.m. PNG time (6 a.m. in Michigan).
We watched New Zealand at 10 p.m., Sidney at 11 p.m. and, when Queensland was ringing in Jan. 1, so were we in PNG.
There was a curfew in Goroka, so there were very few people on the streets. Perhaps the police were worried about what might happen, as some people expected the world to end (some did).
The next morning, we turned on the TV and watched the rest of the world welcome in the New Year5 and were fascinated. Like some others, we didn't realize that there is a 24-hour difference from one end of the world to the other!
We should have known, but while this adventure has been a real geography lesson, we forgot that the world turns once on its axis in a 24-hour period.
Just like many of you, we had to face the hard reality of returning to work after the holidays. We have just completed an HIV/AIDS Training and Education manual titled, "Tisim Wantok" (teach your people) and hope to have it published in April if funding is available and organization politics permit it (yes, that's right, even in PNG).
The manual, which consists of six one-hour lesions and even includes a lesson on man na meri relationships (a first, we believe, in PNG) was reviewed by the National AIDS Council the week of Jan. 16.
We also did a pamphlet version that is an over view of the lessons contained in the larger manual that can be taught in less than two hours. This has been a very exciting project and the manual deserves to be published and distribute to the various organizations throughout PNG as soon as possible.
Notice, however, that that's the Yankee in us talking and not the PNG man na meri! Again, things move at a much slower pace here.
Our Peer Educators conducted a workshop Jan. 9-Jan. 20 to train new educators. We, along with several of the trained Peer Educators, showed them how to use the "Tisim Wantok" pamphlet during the last session.
It has really been exciting to watch their development from being shy at the beginning of this work to the present, where they have the confidence and ability to talk about this disease very effectively.
While we have given our skills to them, they in turn have given themselves to us. One meri even named here newborn pikinini after Steve!
Finally, an update on a few frequently asked questions that appeared from our fist letter:
No we still haven't…
Seen any snakes!
Seen many birds!
Had to carry a handgun!
Yes, we…
Have finally seen a "first generation" rainforest!
Continue to miss all of you, but…!
We'll close for now and look forward to spending more time with you in our next letter. We hope you get the feeling of waking in our shoes during our time here in PNG.
We are glad to have you along. Lukim yu (see you)!
Pren Bilong Yu long Grosse Ile (Your friends from Grosse Ile), Barb and Steve Arnest
(This article was originally published in the Ile Camera, 3 Mar 2000.)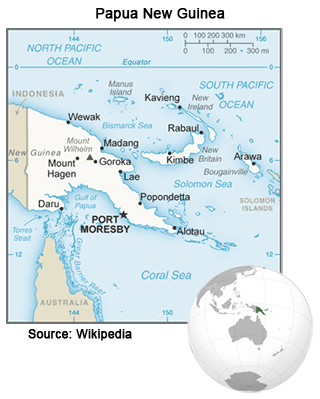 About PNG
Go here for some infomration about Papua New Guinea: Wikipedia and the Embassy of Papua New Guinea to the Americas, Washington, D.C.

PNG Observations & Facts
By Barb & Steve Arnest
Here are a few of our observations and facts about Papua New Guinea which we thought you'd find interesting:
Most of the day in the village of Goroka, PNG, the streets are filled with people – personal cars are not as common as in the U.S.
Too minimize damage in the event of heavy rains and earthquakes, homes are built upon stilts.
Temperatures average in the 80s year-round.
Cable TV is available.



Our commute (that is walk) to work took about five minutes. Also, a five-minute walk took us to the open-air market to purchase our fresh produce each day.
We learned to speak Tok Pisin, the language of most PNG residents. About, 800 dialects are spoken in Papua New Guinea.
1,050 Kina (PNG currency) equals about $350 U.S. dollars.
Many of the same foods which we purchase in our grocery stores are also available in PNG.
The average per capita income in PNG equals about $729.
Most people have their own gardens to grow their own food.
Women do most of the "labor" including gardening, hauling water, and caring for children.





The Asaro Mudmen were warriors who hid from an attacking enemy in a riverbed in the Asaro valley near Goroka. Later they emerged, covered in white mud, and frightened the attackers who fled the battle. On special occasions the villagers recreate the mudmen by covering themselves in mud and wearing special masks.
People respect "age" (elders) in PNG.
PNG is about 9,000 miles from our home in Grosse Ile, Michigan
We attended a Catholic priest's ordination and later met Bishop Raymond Kalisz of Wewak in northern Papua New Guinea and learned that his brother, John, lives in our hometown, Grosse Ile, and that the bishop himself is originally from Melvindale, suburban Detroit, only a few miles from our home.
We learned that we have more in common with the rest of the world than we knew and that the USA is not the center of the universe.
Volunteerism is most gratifying
"No ken wori" (don't worry)
Helping Hurricane Victims — Survivors Hold Onto Faith
By Steve Arnest
The devastation cause by Hurricane Katrina resulted in the Peace Corps calling upon volunteers for the first time it its history for assistance within the United States.
This organization, through an invitation by the Federal Emergency Management Agency and its short-term emergency programs, Crisis Corps, issued a call on Sept. 2, via its website to former Peace Corps volunteers for 30 days of assistance.
I applied, was approved and left for two days of training in Orlando, FL, on Oct. 12.
Steve Arnest was the oldest Crisis Corps volunteer assisting in the Hurricane Katrina recovery effort. He celebrated his 70th birthday during his tour of service.
During this training, the 62 Crisis Corps volunteers in my group (one group had preceded us to the Gulf area) were given information about FEMA operations and how to assist people in the several disaster recovery centers in Louisiana.
We were to advise people about housing information, short-term loans as well as other emergency assistance. After the training, we traveled to Louisiana and were assigned housing at the City of New Orleans Base Camp.
This FEMA complex was made up of a series of tents similar to those that house a circus, and provided everything required to service 750 people.
There were tents for a cafeteria, laundry, TV room, a trailer for medical services, portable showers, toilets and a washroom. There was no cost to us for any of the services provided.
The entire complex was built in a public recreation area that had a football stadium, running track and pool.
Because this complex was built in a very few days and these were emergency conditions, the recreational facilities were not in operation.
I slept in a tent with approximately 250 people who included security personnel, bus drivers, home inspectors, construction personnel and our own Crisis Corps people.
I never heard such loud snoring in all my life!
While we were trained to work in disaster recovery centers, they did not open as quickly as initially planned, and as a result, FEMA assigned us to community relations responsibilities that were left larger to our own initiative to develop.
We really didn't have to look very far to see a need for our assistance.
During the first few days, several of us assisted the California National Guard in painting the outside of the local high school. What a wonderful bunch of young men these were who gave freely of their time!
Some of them had just returned form service in Iraq and were immediately assigned to the Katrina effort.
By the third week of October, the school was completely pained and ready to open, although staffing problems forced a delay until late November.
For the next several days, I worked in the disaster recovery center at the Landry Middle School, which housed center personnel, National Guard troops, security, cafeteria and maintenance staff.
I opened my big mouth too quickly when our supervisor, firefighter from Florida, asked if someone would mow the grass on the center's grounds.
The grass was about a foot high and littered with debris from the hurricane. In addition, the school was in a neighborhood surrounded by vacant homes that had suffered severe wind damage (water had not reached this area).
I spent considerable time just picking up shingles, tar paper and tree branches prior to any grass cutting, and had to make sure this debris and the day's garbage got placed in the appropriate disposal bins.
The maintenance staff supporting this center consisted of three firefighters from three different states whose work ranged from supervision to cleaning toilets to power spraying the sidewalks.
Here I was, a former teacher and Ford Motor Co. manager, picking up garbage. Somehow, none of this mattered. We all had a mindset to help in any way possible.
After several days, I left these find people having provided sufficient assistance that would them to handle the workload.
My other FEMA assignment dealt with assisting the field operations activity in Plaquemines Parish, one of the hardest hit by Katrina, in stocking FEMA-owned trailers.
These trailers are used as temporary housing by people who had their homes damaged by the hurricane.
Displaced people can apply for a FEMA travel trailer (appropriately 30 feet in length) to be used as temporary housing for up to 18 months.
These trailers are pulled to designated sites within the parish or to the applicant's residence, assuming that all utilities are available.
In Plaquemines Parish, these new trailers came from suppliers across the country, and set up on the military base at the parish.
Private contractors with an appropriate truck and hitch are employed by FEMA to pull the trailers to designated sites from the listing receive from the FEMA headquarters in Baton Rouge.
Approximately 40-50 trailers were moved daily to these sites containing necessary "living kits" stocked with stuff such as pots, pans, boxed food and cleaning supplies.
The first 140 of these trailers went to sites without these supplies because they were not initially available.
It was part of my responsibility, along with three other Crisis Corps members and supervisory staff, to locate these trailers and provide the occupants with necessary supplies.
Part of this work carried with it a community relations function because if the occupants were home, there was, more often than not, a very tearful conversation regarding what they had witnessed, how they were coping and what the future held.
Emotions were always on the surface and parting usually resulted in wet eyes and heavy hearts.
I believe we performed a valuable service, not so much in providing kitchen suppliers but lending that much-welcomed sympathetic ear.
My memories of this time still burn inside me. I recall speaking to a gentleman who was losing his fruit orchard because the salt form the water damage was slowly killing his trees.
He described his loss and simply stared out at the dying trees in a daze. He had no idea what he was going to do.
I recall speaking to another man and alongside him stood his golden retriever.
He never really talked about his misfortune but only how proud he was of his dog, which had saved two neighborhood children from drowning during the flooding from the hurricane.
Three things that impressed me more than anything else about these people were their graciousness, thankfulness and their strong religious faith.
They lost all or nearly all of their worldly possessions but never their spirituality.
With the stocking of these trailer s complete, I had two days left in which to provide as much assistance as possible.
I chose an organization that I had a deep respect for and one that had direct contact with people – the American Red Cross. I was not disappointed.
In the city of New Orleans, I found a branch of the Red Cross that needed help on the grounds of the Susan B. Anthony Middle School.
The work consisted of providing packaged food items and cleaning supplies to needy neighborhoods people who came to the center.
They entered the fenced area by one gate pushing carts provided by the Red Cross, got their supplies and left.
During my service with the Red Cross, the temperature was in the high 80s with high humidity and because I worked in the sun, drinking water on a regular basis was necessary.
There was never a break as people were continually in line, and we serviced from 750 to 1,000 people each day.
I had the "broom station" and when I wasn't handing out brooms or mops, I was keeping the rest of the inventory within reach of other workers.
As they exited, people always thanked us for being there to help them.
I never found a harder working group of people than the Red Cross workers, and one so respectful of the community in which they were serving.
My final impression was of one middle-aged lady who when she received gloves from the cleaning supply area, broke down in tears remembering her own gloves lost in the flood.
It will be years before this area is back to what may be considered normal after the destruction, both mental and physical, caused by Hurricane Katina, but I am extremely proud to have played one small part in its recovery.
(This article was originally published in the News Herald, 18 Dec 2005, and the Ile Camera, 1 Jan 2006.)
---